Windows XP Live USB Stick Edition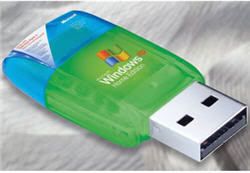 Ever want to boot up into Windows XP via a USB memory key?
Well, now you can. This is a miniature version of Win XP.So you can restore from backup, access your files, or do whatever you have to do.
How to install:
Copy "LiveXP.bat" & "INSTALLDIR" to a folder that is easy ( ex. C:\XP\ )
Run "LiveXP.bat"
Set source & destination directory ( ex. Source: C:\XP\INSTALLDIR\, Destination: C:\XP\1\ )
How to use
Enable USB boot in your bios.
Download
http://rs168.rapidshare.com/files/61338834/WINDOWS_XP_USB_STICK_EDITION.rar